Brooklyn Car Accident Lawyer: Get Help After a Car Crash
If you find yourself involved in a car accident in Brooklyn, New York it is important to seek assistance from Alex Yadgarov & Associates. We are 24/7 to provide help and support. Alex Yadgarov car accident lawyers in Brooklyn are dedicated to helping you recover maximum compensation. With over five years of experience, we have successfully fought against insurance companies and obtained millions of dollars in settlements throughout Brooklyn and New York City.
To determine the value of your claim, several factors are taken into consideration;
The severity of your injuries: We assess how serious they are and how they have impacted your life.
Expenses: We consider your medical costs for treatment and recovery.
Lost wages: If the accident has affected your ability to work and earn an income, we account for lost wages.
Property damage: The cost of repairing or replacing damaged property is factored into the evaluation.
Impact: We consider the mental effects caused by the car crash.
Liability: We assess the extent to which responsibility may be shared for the accident.
At Alex Yadgarov & Associates, we strive to provide support tailored to each client's situation throughout their legal journey.
The value of your claim in a car accident case depends on the circumstances surrounding the incident. Our team of car accident attorneys in Brooklyn is committed to evaluating and determining the worth of your case.
What Damages Can Brooklyn Car Crash Victims Seek?
Under New York state law car accident victims have the right to seek noneconomic damages.
Economic Damages: These damages aim to compensate for the costs and expenses incurred as a result of the accident. They cover aspects such as;
Medical bills, including ambulance fees, hospitalization costs, surgeries, and treatment.
Expenses related to medical devices and equipment.
Rehabilitation and therapy expenses.
Disability compensation, whether it is temporary or permanent.
To support claims for damages, it is essential to provide documentation such as invoices, receipts, pay stubs, or bills.
Non-Economic Damages; These damages consider the consequences of the accident that are not easily quantifiable in monetary terms. They include;
Disfigurement resulting from the accident.
Scarring caused by injuries sustained in the accident.
Chronic pain was experienced after the incident.
Emotional distress suffered due to the accident's impact on wellbeing.
Posttraumatic Stress Disorder (PTSD) stemming from the traumatic event.
Loss of consortium that affects relationships due to injuries sustained in the accident
Loss of enjoyment of life caused by limitations imposed by injuries or disabilities.
Compensation is subjective since there is no fixed value assigned. We collaborate with experts who specialize in assessing your suffering.
Is It Possible to Receive Punitive Damages Following a Car Accident in Brooklyn?
According to New York law, clear and convincing evidence of wanton negligence is required. These damages may come into play in situations involving drivers or reckless behavior.
How can you receive compensation after being involved in a car accident in Brooklyn? 
In Brooklyn, insurance serves as the means of obtaining compensation following a car accident. It is important to note that New York operates under a "no fault" insurance system, which means that regardless of who caused the accident, you must initially file a claim with your insurance company.
What happens if your injuries exceed your insurance policy limits? 
If your injuries are severe and surpass the limits your insurance policy sets, you can pursue a personal injury lawsuit.
Who is liable? 
Determining who can be held responsible for a motor vehicle accident in Brooklyn requires an investigation. It is important to identify all causes and parties involved. Liability may be shared among individuals, which means you could seek compensation from more than one party. This includes drivers of vehicles, pedestrians, bicyclists, motorcyclists, truck drivers, trucking companies, bus drivers, transit companies, employers of those product manufacturers, and city or state government agencies.
Even if you are partially blamed for a car accident in Brooklyn, you can still pursue compensation if someone else shares the blame. 
In New York, we follow a fault system where your compensation is reduced based on the percentage of blame assigned to you. For example, if you are found to be 35% at fault for the accident, your damages will be reduced by 35%. You would also bear responsibility for 35% of the injuries suffered by others.
Insurance companies often attempt to shift blame to minimize their payouts. Our team of car accident lawyers in Brooklyn can assist in disproving or minimizing these claims. We handle all types of car accident cases that occur in Brooklyn.
Car accidents occur in different forms, and our law firm is equipped to handle:
Collisions that occur head-on
Rear end collisions
Sideswipe accidents
T-bone collisions
Rollover incidents
Accidents where the responsible party flees the scene (hit and run)
Single vehicle accidents
Accidents involving multiple vehicles
Incidents involving trucks, buses, and other commercial vehicles
Accidents involving bicyclists, pedestrians, and electric scooters
Accidents caused by drivers who are uninsured or underinsured
No matter what situation you find yourself in, our team of car accident lawyers in Brooklyn is ready to assist you. We offer an initial case evaluation. You only pay if we successfully win your case.
Let your Brooklyn auto accident attorney handle your personal injury case while you focus on recovering. Reach out to us today for immediate assistance and a free consultation. We are here to help you through this challenging time.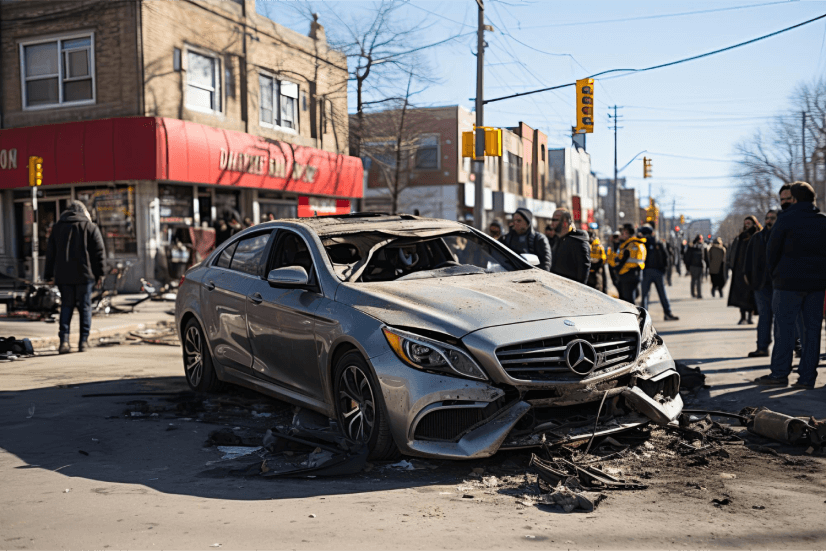 Schedule a Free Consultation with Our Queens Car Accident Attorneys.
If you or a loved one has been involved in a car accident in Queens, don't face the legal battle alone. Let the experienced car accident attorneys at Alex Yadgarov & Associates fight for your rights and pursue the fair compensation you deserve.
Our dedicated team is ready to provide you with the support and legal guidance you need during this challenging time. Remember, we are here for you every step of the way, committed to achieving the best possible outcome for your case.
Call Alex Yadgarov & Associates at 866-995-9035 to receive assistance from our Queens car accident lawyers.
Words From Our Clients
Testimonials
The best law firm ever!!!!!

"I would like to thank Alex Yadgarov lawyers for doing a great job with my case. Alex and his team took very good care of me, They made all easier throughout my case and they were always their for me. ..."

Bolanle J

1/5